the ultramate experience of protection
BRAND
Strengthen & Broaden our network!
Top 10 Export Countries / Total 35 Countries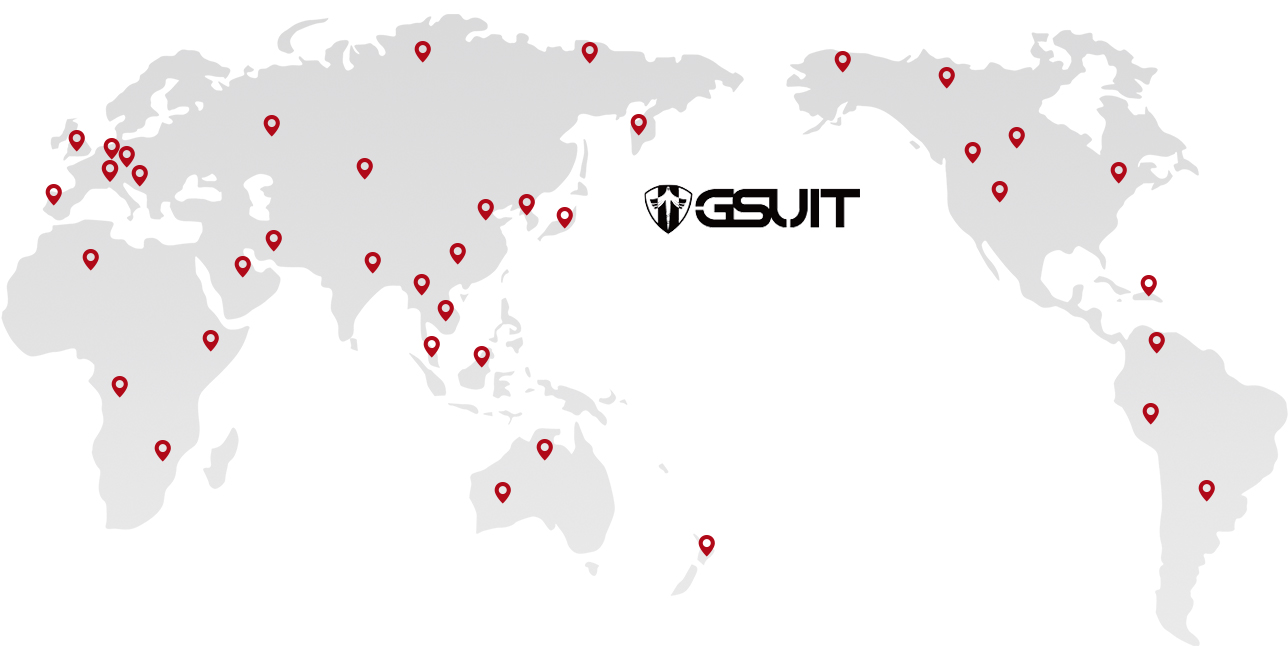 About GSUIT
GSUIT is one of the excellent products as PPF from Ad-winner for car paint protection. This is the most effective way to protect vehicles from environmental, physical and chemical damages.

The actual meaning of GSUIT is a safe gear that pilots wear to protect themselves in flight. Implying the characteristic of the pilot safe suit, our product, GSUIT, keeps vehicles intact from any external substance.

GSUIT is an Anti-chipping film made of thermoplastic polyurethane. It is not only used as an interior design element, but also exterior decoration. The painted surface of various vehicles including cars, bicycles, motorcycles, boats, airplanes etc. can be wrapped with our GSUIT to get protection.

The Film thickness reaches 200 micron, which ensures protection from mechanical and chemical influences.
GSUIT has excellent transmittance and gloss, which makes the color of paint darker.
GSUIT defends against physical and chemical contamination with its excellent water repellency.
The flawless adhesive layer does not peel off easily and can be easily peeled off during use.
The excellent crosslinking performance of the film keeps the car's painted surface much longer clean and non-yellowing.
Products Feature
Products Feature

| Test Item | Special | Ultra | Aegis | Prime | Matt | Test Condition |
| --- | --- | --- | --- | --- | --- | --- |
| Appearance | Clear | Clear | Clear | Clear | Clear | |
| Top coating | ○ | ○ | ○ | ○ | ○ | |
| Gloss(%) | >98% | >96% | >96% | >96% | <20% | 60˚ |
| Transparency(%) | >95% | >95% | >96% | >96% | >90% | Haze meter |
| Hydrophobic(˚) | >95 | >95 | >96 | >96 | >90 | Angle contact |
| Self-healing(℃) | >120 | >120 | >180 | >25 | >60 | Heat gun |
| Anti-premeation | ★★★★ | ★★★★ | ★★★★★ | ★★★ | ★★★ | Permanent marker |
| Anti-yellowing(△E) | <0.8 | <0.8 | <0.6 | <0.6 | <0.6 | Q-UV 1,000hrs |
| Stain resistance | ★★★★ | ★★★★★ | ★★★★★ | ★★★★ | ★★★★ | Motor waste oil |
| Anti-chipping | ★★★★★ | ★★★★★ | ★★★★★ | ★★★★★ | ★★★★★ | SAE J400 |
| 100% Modulus(kg/㎠) | <90 | <100 | <200 | <100 | <100 | ASTM D412 |
| Tensile strength(kg/㎠) | >300 | >190 | >300 | >250 | >200 | ASTM D412 |
| Elongation(%) | >500 | >300 | >300 | >250 | >300 | ASTM D412 |
| Peel adhesion(g/in.) | >1,400 | >1,400 | >1,400 | >1,200 | >1,200 | ASTM D3654 |
| Thickness(㎛) | 184±2 | 185±2 | 185±2 | 200±2 | 190±2 | |
(Scroll sideways to see more.)
Products Feature
Test Item
Black High Glossy
Black Matt
Head Light
Black Carbon
Test Condition
Soft Black
Dark Black
Gray
Violet
Top coating
○
○
○
○
○
○
○
Gloss(%)
>96%

<20%

>96%
>96%
>96%
>96%
60˚
>96%
Transparency(%)
>80%
>40%
>70%
>60%
Haze meter
Hydrophobic(˚)
>95
>90
>95
>95
>95
>95
Angle contact
>95
Self-healing(℃)

>100

>60
>100
>100
>100
>100
Heat gun
>100
Anti-premeation
★★★★
★★★★
★★★★
★★★★
Permanent marker
Anti-yellowing(△E)
<0.1
<0.1
<0.8
<0.8
<0.8
<0.8
Q-UV 1,000hrs
<0.1
Stain resistance
★★★★★
★★★★★
★★★★
★★★★
★★★★
★★★★
Motor waste oil
★★★★★
Anti-chipping
★★★★★
★★★★★
★★★★★
★★★★★
★★★★★
★★★★★
SAE J400
★★★★★
100% Modulus(kg/㎠)
<170
<100
<90
<90
<90
<90
ASTM D412
<150
Tensile strength(kg/㎠)
>300
>200
>300
>300
>300
>300
ASTM D412
>300
Elongation(%)
>400
>300
>500
>500
>500
>500
ASTM D412
>350
Peel adhesion(g/in.)
>1,400
>1,200
>1,400
>1,400
>1,400
>1,400
ASTM D3654
>1,400
Thickness(㎛)
150±2
150±2
184±2
184±2
184±2
184±2
280±5
(Scroll sideways to see more.)